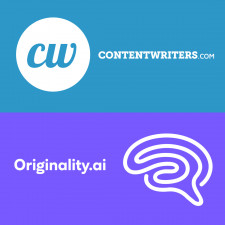 AI content generation tools are here to stay, but Google remains steadfast in rewarding unique, valuable, and quality content. To continue to deliver the highest-caliber human-generated content, ContentWriters has incorporated Originality.AI, a leading AI detection tool, into its workflow.
NEW YORK, June 20, 2023 (Newswire.com) - ContentWriters, a leading content writing service, is thrilled to announce the integration of Originality.AI, a leading AI detection tool, into its content creation workflow.
This integration reinforces ContentWriters' unwavering dedication to delivering exceptional content that helps businesses grow and aligns with Google's E-E-A-T guidelines. While Google asserts that using AI content generation is not "wrong," its algorithms are designed to surface reliable, helpful, people-first content. With this in mind, Emily O'Connor Kefs, CEO of ContentWriters, acknowledged that human writers remain indispensable in creating content that gives clients a competitive edge.
O'Connor Kefs explained, "There is a place for AI tools, particularly in enhancing and facilitating content creation, but it doesn't replace more reliable and quality-centered research and writing methods. Our writers bring the experience and industry knowledge to deliver original, engaging content that sets our clients apart from the competition."
Originality.AI's (AI-powered) AI detection tool is integrated into ContentWriters' standard workflow, and every client's content will be scanned automatically. High AI probability scores will be flagged to ContentWriter's administrators, who will work with the writer to reduce the score. Any writers who consistently have higher-than-average AI probability scores will be removed from the team.
Despite the convenience and efficiency of AI content generation tools, they still fall short in areas such as accuracy, bias, repetition, and outdated data. This is particularly crucial in industries like YMYL (Your Money or Your Life), where trust and expertise are paramount.
Google's E-E-A-T framework is a benchmark designed to ensure the quality and relevance of online content. In a highly competitive digital landscape, where content quality is pivotal in achieving search engine visibility and user engagement, companies that focus on quality and authority need human writers to stay competitive.
Human writers offer adaptability, creativity, and a personal touch that is difficult to replicate. AI content generation tools can be well-leveraged for some marketing efforts but not as a replacement for tailored content with well-researched and substantiated arguments.
ContentWriters' integration of Originality.AI's AI detector has added another layer of quality control to its content writing process.
"We are always striving to stay ahead of the curve and innovate in our industry," said O'Connor Kefs. "With the addition of Originality.AI, our clients can be confident that they are receiving original content that adheres to the highest standards of quality and expertise."
Originality.AI works with a team of top AI experts to develop and train their own predictive AI. This technology can accurately detect ChatGPT, GPT-4, GPT-3, GPT-2, GPT-NEO, GPT-J and even paraphrased content (using Quillbot). Originality.AI is several times more accurate than the nearest competition and shows results such as:
99%+ accurate on GPT-4 content
94.5% accurate on paraphrased content
"I don't have a hard stance against artificial intelligence and I do think it has its place," said Originality.AI founder and CEO Jonathan Gillham. "However, it's important for publishers to have an understanding of what's being published on their sites, and to be the ones making the decision about when to publish AI-generated content."
Gillham went on to say, "Our tool was created to help agencies and publishers gain control over their editorial processes and understand exactly where their content came from."
About ContentWriters
ContentWriters is a leading content writing service that pairs businesses with expert writers to deliver compelling, engaging, and SEO-friendly content. With a commitment to quality and innovation, ContentWriters strives to provide exceptional content solutions that drive results and elevate brands across various industries.
About Originality.AI
Originality.AI launched in November 2022 to be able to detect GPT-3 generated content (before ChatGPT had launched). At Originality.AI, they believe that website owners should decide when to publish AI-generated content and that content creators need an easy way to prove originality beyond AI detection scores.
Source: ContentWriters
Share: